Great Plains Audiofest Writeup, Page 6
[ General Forum ] [ Help ]
---
Posted by Wayne Parham [ 65.69.120.54 ] on May 04, 2005 at 00:01:20:
In Reply to: Great Plains Audiofest Writeup, Page 5 posted by Wayne Parham on May 03, 2005 at 17:08:09:
Abraxas Audio specializes in hand-built, made to order amps. But unlike some of the other custom builders, you can get a nice amp from Abraxas Audio for less than a few thousand bucks. In fact, you can get an amp from Jef for just a few hundred bucks, and it's really a great looking and great sounding amp. That's less money than most of the popular kits, so you might be asking how Jef can afford to make these groovy amps so inexpensively.
I'm thinking he has a rich uncle or something.
Just look at these things:
The way I identify Abraxas Audio amps is by color. Most of them have a brushed aluminum chassis with an anodized or painted color trim, but each is different. The first one I saw and heard was the blue one that Jim Denton bought. It sounded surprisingly good, especially for the price. Must be the rich uncle. At GPAF, Jef brought a yellow amp and a black amp, and Jim's blue amp was there too.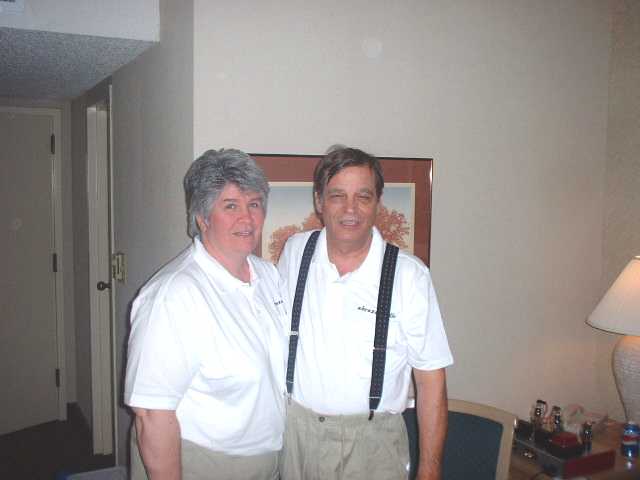 Jef and Deborah at Abraxas Audio
If you're wanting to make the plunge into a lower power SET amp, I suggest you drop Jef a line. You can get an amp from him for less than you'd spend on a good kit, and you won't have to pick up an iron.
Here's another view: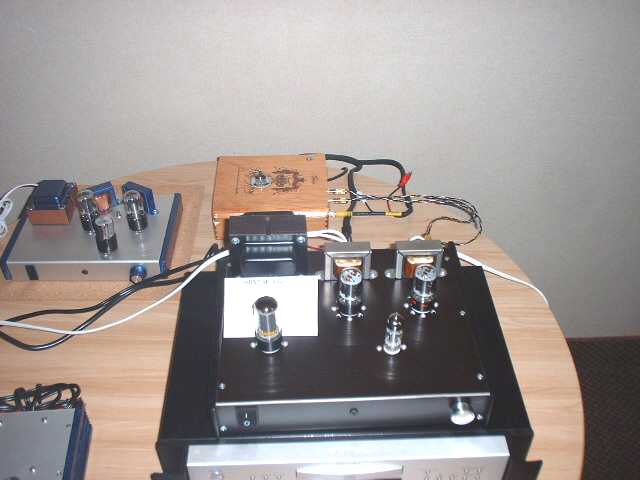 ---
---
[ General Forum ] [ Help ]